@
Bobby Vinton Show
@@@
Broadcast: Sept 2, 1975. - Sept 4. 1978.
74 total episodes
30min.
Executive Producers: Alan Byle & Chris Beard
Producer: Alan Thicke
Director: Mike Steele
Musical Director: Jimmy Dale
Musical Consultant: Bob Morgan
Chuck Barris Production
Syndicated U.S. Nation wide & Canada

Regulars:
@Freeman King(1975-76)Comedian
@Jack Duffy(1975-76)Comedian
@Billy Van(1975-76)Comedian
@The Peaches(1976-78)(Chorus)
@Lisa Dal Bello(2 seasons)(Female Vocalist)
Host: Bobby Vinton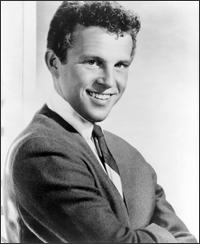 Guest(alphabetically)

Lynn Anderson
Adrienne Barbeau (2 times)
Barbi Benton
Milton Berle
Karen Black
Steve Bluestein
David Brenner
Tom Bresh (2)
Teresa Brewer
Foster Brooks (3)
Ruth Buzzi (2)
John Byner (7)
Charlie Callas
Captain Kangaroo
Petula Clark
Pat Cooper (2)
Irwin Corey
Norm Crosby
Billy Davis, Jr.
Clifton Davis
Phillis Diller (2)
Dion
Tom Dreesen
Shirley Eilhard
Donna Fargo (2)
Freddy Fender
Hank Garcia (3)
Patsy Gallant
Kelly Garrett
George Gobe
Lesley Gore
Richie Havens
Hudson Brothers
Susan Jacks
Shawne Jackson
Arte Johnson (7)
Jackie Kahane
Gabriel Kaplan
Gloria Kaye
Lanie Kazan (2)
Ted Knight
Abbe Lane
Carol Lawrence
Jay Leno
Trini Lopez
Gloria Loring (3)
Dennis McCann
Marilyn McCoo
Mary MacGregor
Barbara Mandrell
Jackie Mason
Ethel Merman
Marilyn Michaels
Melba Moore
Rita Moreno
Anne Murray (3)
Bruce Murray
Elaine Overholt
Patti Page
Freda Payne
Rosemary Radcliffe
Michael Rapport (3)
Don Rickles
Chita Rivera
O.J. Simpson
Phoebe Snow
Joanie Sommers
Spinners (2)
Jim Stafford
Skip Stephenson@
Larry Storch
Donna Summer
Loretta Swit
Gordie Tapp
Rip Taylor
Liz Torres(2)
Fred Travalena
Tanya Tucker
Willie Tyler & Lester(2)
Karen Valentine
Jessica Walter
Paul Williams
Ren Woods
Trudy Young
Henry Youngman (3)
@@@@@@@@@@@@
@@@@@@@@@@@@Guest Stars
Abbe Lane

Marilyn McCoo&
Billy Davis, Jr

Melba Moore

Ethel Merman

Dion

Donna Fargo

Freddy Fender

Lesley Gore

Barbara Mandrell

Patti Page

Paul Williams

Freda Payne

Joanie Sommers

Teresa Brewer

Tayna Tucker

Anne Murray

@

@

@

@


I quote the following from his autobiography"Polish Prince"published in 1978.

"It wasn't a network show, but had to be syndicated station by station.
Nevertheless ,through the efforts of Sandy Frank, eventually it was bought
by more than one hundred stations in all the major markets of North America.
(The show was owned by Chuck Barris and Buddy Granoff.) We sailed through
the first year with excellent ratings, and, although TV is no substitute for a live
performance, we reached a much broader audience than I could have ever had
playing in clubs, all my life.Unfortunately, television executives can't stand success.

@The CBS people analyzed the "Bobby Vinton Show" and decided the success
was due to its production and comedy and not so much to Bobby Vinton.

When I saw the results of editing of my second year's shows, I could scarcely
believe it. Bobby Vinton was limited to a few appearances and the guests were
prominently featured; the format was turned upside down and a lot of the spirit
was taken out.The show didn't have the same feeling of fun as it had the first
year.Then the ratings started to fall off, but this convinced the exectives only
that my first year was a fluke! They dropped their share of backing for the show.
With my budget accordingly reduced, I decided not to try to go beyond the three-
year contact. Although in Canada the show was a big hit and they wanted to renew
it for the fourth year, I told Art Weinthal, the head of Canadian Network, that I
wanted to quit while I was ahead. It was an exciting adventure, and it coincided
with the success of "My melody of love" to spread that message to a wide audience.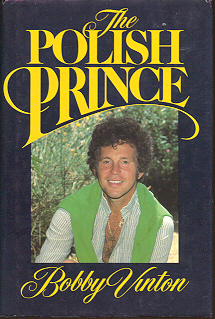 Some episodes

First Season: Sept. 2, 1975 (Tuesday evening)
#1Guest: Ted Knight
@@Bobby sings, "When will I be loved"The most beautiful girl"
"That's my desire"and others
#2 Guest: Ruth Buzzi
@@Bobby sings, "Let me be there""I love how you love me"
@@@"Al Jolson medley" and others.
#3 Guest: Arte Johnson, Gloria Loring
Bobby sings, gListen to the musichhMatchmakerhhSunrise, sunseth&hTo lifeh
Gloria & Bobby singhJust as much as everh


#4Guest: Clifton Davis
@@Bobby sings, "Sealed with a kiss""Gotta travel on "and others.

.




#'Q'RGuest: Don Rickles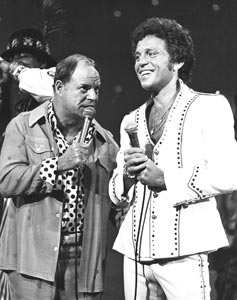 @@Bobby sings, "I honestly love you""Polka pose""The way we were"
and others.

#5Guest: Adrienne Barbeau & Charlie Callas
.@Bobby sings, "Do you wanna dance""Help me make it through the
night"If you knew Suzie" and others.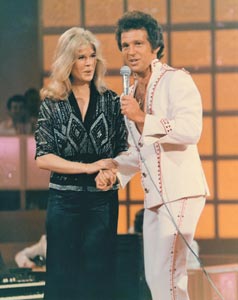 <![if !supportLineBreakNewLine]>
<![endif]>
#6 Guest: Karen Valentine
Karen singshPlease,Mr. pleaseh
Bobby & Karen sing a medley: Thank God Ifm a country boy/Daddy sang bass/Wabash
Cannon Ball/Oh lonesome me
Bobby singsh Bad , bad Leroy Brownh&hMidnight showh
#7 Guest: Jim Stafford
Bobby singshDonft be cruelh,Jim performs gYoufll never take me as aliveh
& gMr. Bojunglesh
Bobby & Jim do a New Orleans medley
#8 Guest: John Byner
John and Bobby sing gCover of Rolling stoneh
Bobby singshJambalayah&hCrocodile rockh
#9 Guest: The Hudson Brothers
Hudson Brothers do a medley of rock oldies. & gLonely school daysh
Bobby sings gDelta dawnh
#10 Guest : Jessica Walter & O.J.Simpson
Bobby & O.J. sing gThe football bluesh
Jessica sings gCorner of the skyh
Bobby sings g Never ending song of loveh
#11 Guest: Melba Moore & Foster Brooks
Melba singshGet into my mindh
Bobby sings ginternational medleyh
#12 Guest: Anne Murray
@Bobby sings, "Runaway""Please love me forever"& "United we stand"with
Anne Murray.Anne sings"Sunday sunrise"
#13 Guest: Loretta Swit
@@Bobby sings, "Another Saturday night""Blue on blue""There!
I've said it again""Mama don't allow" and others
#14@Guest: Arte Johnson
@@Bobby sings, "Wooden heart""Mr.lonely""Chantilly lace"
and others.

#15 Guest: Donna Fargo & Hank Garcia
@Bobby sings, "I'm walkin'""Daddy's little girl""California here I come"
and others. Donna sings, "You're not Charlie Brown".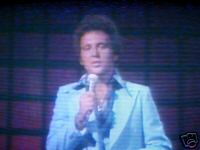 #16 Guest: The Spinners
Bobby sings gFor once in my lifehhYesterdayh& a hit medley
#17Guest: Petula Clark
@Bobby sings, "Killing me softly with her song "&"All my loving"
with Petula Clark.Petula sings, ""Ease on down the road""Give
me a smile".
#18 Guest: Freddy Fender
Freddy singshSecret loveh
Bobby singshEvfry day of my lifeh&hOur day will comeh
#19 Guest : George Gobel
Bobby singshOh, babe what would you sayhhPaloma blancah& gAnd I love you soh
#20 Guest: Anne Murray
#21 Guest: David Brenner
Bobby plyas sax on gGo go goh and singshWhat a fiffference a day madeh &hWhere do I begin
#22 Guest: Hank Garcia, Mousey Garner
Bobby sings gYou gotta troublehhOnly youh & gMy melody of loveh
#23 Guest : Don Rickles see above
#24 Guest: Bob Keeshan, Gabriel Kaplen, Wolfman Jack & Bill Macy
Bobby sings gPeter Paul & Maryhmedley, gI only have eyes for youh& Blue velvet#
#25 Guest: The Spinners
#26 Guest –Donna Fargo & Hank Garcia
'r'…'ƒ''Ž'"@'r'…''"''Ž
#27
Sept. 21, 1976 Guest; Dion & Teresa Brewer
@Bobby sings, "Roses are red""Make your own kind of music".Dion does "
Runaround Sue" & "Teenager in love" with Bobby.Teresa sings, "Sweet old
fashioned girl""Ricochet"
# 28 Guest: Karen Black, Foster Brooks, & John Byner
Bobby sings gWill you still love me tomorrowh
Karen singshLonely nowh
Bobby & Karen singhHere comes the showboathhWaiting for the Robert E. Leeh
& gMississippi Mudh
#29 Guest: Lanie Kazan
Lanie sings gI feel a songh
Bobby singsh Higher & higherhhLemondrops lollipops & sunbeamsh&hPlease love me foreverh
#30 Guest: Joanie Sommers
#31 Guest: The Spinners, Arte Johnson
Bobby singshI got the music in me&hWaltz medleyh
Spinners singhGames people playh and Bobby joins with gOver the mountainh
#32 Guest: Carol Lawrence & Foster Brooks
Bobby sings gTherefs a kind of hushh&hIt was a very good yearh
Carol singshFriend of the fatherh
#33 iNov.2, 1976j'f'•'…'"'"F@Ethel Merman@
Bobby sings gTherefs no business like show businesshhMy melody of loveh
Ethel singshAlexanderfs ragtime bandh


Episodes #34 Apr. 5, 1977 Guest: Paul Williams
@Bobby sings, "I won't last a day without you""Moonlight serenade"
Paul sings, "Don't call it love".
<![if !supportLineBreakNewLine]>
<![endif]>
Episodes #35 Guest: Ruth Buzzi
Bobby singshCountry roadhhSilly love songhhI write the songsh & gSealed with a kissh
Episodes #36 Guest: Lynn Anderson & Jackie Kehane
Bobby sings gStand by your manhhBlue velveth&hTravellinf bandh
Lynn singshSweet talkinf guy h & joins Bobby in gBlue velveth
Episode #37 Guest: Norm Crosby
Bobby singshRose gardenhhPersonalityhhMy funny Valentineh& gBlue on blueh
Episodes #38 Guest: Adrienne Barbeau & Foster Brooksh
Bobby singshNever my loveh
Adrienne singshBargain storeh
Bobby & Adrienne sing gEverybody loves a lover
'd''‰sodes #39 Guest: Donna Summer & John Byner
Bobby singshI wanto to hold your handh& gItfs all in the gameh
Donna singshCould this be magich
Episodes #40 Guest: Joanie Sommers, Henny Youngman & John Byner
Bobby sings gYou are the sunshine of my lifeh&hMy special angelh
Joanie singshSwearinf to Godh
Bobby & Joanie sings wuthhJoanie get angryh
Episodes #41 Guest: Rene Simard, Murray Langston, Arte Johnson,
Foster Brooks, Dody Goodman & Freeman King
Bobby singshBit I dohand does gBog band medleyh
Episodes #42 Guest: Arte Johnsin & Hank Garcia
Bobby singsh A Goodman is hard to findh&hProud Maryh
Episodes #43 Guest: Phillis Diller, Rene Simard & Gabriel Kaplan
Bobby sings, gThose were the daysh& gI believeh
Rene singshItfs a miracleh
Episodes #44 Guest: Anne Murray & Henny Youngman
Bobby singshMack the knifeh&hGames people playh
Anne does gGolden oldiesh
Bobby & Anne duet withhLet it be meh
Episodes # 45 Guest: Lesley Gore & John Byner
Bobby singshLove me tenderh&hCryingh
Leslie singshImmortalityhhItfs my partyh& gSunshine lollipops & rainbowsh
Episodes #46 Guest: Barbi Benton, Henny Youngman & Foster Brooks
Bobby singsh Eight days a weekh&hHave I told you lately that I love youh
Barbi sings, #Staying powerhh
Episodes #47 Guest: Gloria Loring, Foster Brooks & Arte Johnson
Gloria singshWill you love me tomorrowh
Bobby sings gDidnft weh
Bobby & Gloria sinshBreaking up is hard to doh
Episodes #48 Guest: Freda Payne & Foster Brooks
Bobby sings gTop of the worldh& gHurth
Freda singshLook what I foundh

Third season(Sept. 19, 1977)At 7 P.M.(Monday)

Episodes #49 Guest: Eli Wallach
Episodes #50 Sept. 26, 1977 Guest: Ren Woods & Fred Travalena
@Bobby sings, "Sir Duke""Blue on blue" & "Roses are red".
Ren sings, "Dancing Queen" & "You are my sunshine".
Episodes #51 Oct. 3, 1977 Guest: Chita Rivera & Tom Bresh
@Bobby sings, "Strike up the band for love""All my todays" & big band medley
of Marie""Chattanooga Choo""Bei mir bist du schon" & "In the mood"
Chita sings, "Me & my babies"
Episodes #52 Guests: Phillis Diller, & Shawne Jackson
Shawne singshI wanna be where you areh
Shawne & Bobby singhDelta dawnh
Bobby singshYou donft have to be a starh& gHold me thrill me kiss meh
gGonna fly nowhin all member
Episodes #53 Guest: Gloria Kaye& Tom Bresh
Bobby singshWhat I did for loveh & Al Jolson medley
Gloris aingshFresh out of loveh
Episodes #54 Guest: Gordie Tapp
Bobby singshIfve got the music in mehhYou donft have to be a starhhSealed with a kissh
gOnly love can break a heart g& gI love how you love meh
Gordie & Bobby do gThatfs amoreh
Episodes #55
Oct. 31, 1977 Guest: Liz Torres, Trudy Young & Rosemary Radcliffe"
@Bobby sngs, "Do you wanna dance""You don't have to be a star".Liz does
"But the world goes round"
@Episodes #56 Guest: Phoebe Snow
Bobby singshItfs so easyhand Sam Cooke medley
Phoebe singsh Never letting goh& gLove makes a womanh
Episodes #57 Guest: Milton Berle & Shirley Eikhart
Bobby singshNobody does it betterh& gI just want to be your everythingh
Shirley singshDonft let me downh
Production number; Tribute to Nat King Cole
Episodes #58 Guest: Rita Moreno & Pat Cooper
Rita dances to gOn the sunny side of the streeth
Bobby & Rita singhHelp me make it through the nighth&Big band medley
Also a tribute to Elvis Presley
Episodes #59 Guest: Mary MacGregor & Irwin Corey
Mary & Bobby duet on gProud MaryhhBig band medley: South of the border etc.
Bobby singshToo fat polkah
Episodes #60 Guest: Barbara Mandrell & Willie Tyler & Lester
Barbar sings, gLet your love flowh&hHold meh
Bobby simngshHigher & higherhhLove is the reasonh& gOb-La-Di,Ob-La-Dah
Episodes #61 Guest: Pat Cooper , Arte Johnson & Susan Jacks
Bobby sings, gSplish splashh& gSave your kisses for meh
Susan singshAnnah
Episodes #62 Guest: Larry Storch & Elaine Overholdt
Elaine sings,hSome enchanted eveningh
Bobby singshhEverything is beautifulhhRiviera hall of fameh
Episodes #63 Guest: Patsy Gallant & Rip Taylor
Patsy singshSugar Daddyh
Bobby singshLove makes everything betterh
Episodes #64
Jan. 2, 1978 Guest: Abbe Lane & Michael Rapport
@ Abbe singshPuttinf on the Ritzh & gThey canft take that away from meh
Bobby sings, "You light up my life"&"All my loving"with Abbe Lane.
Abbe salutes Maurice Chavalier, Fred Astaire & Al Jolson
Episodes #65 Guest: Marilyn McCoo & Billy Davis, Jr
Marilyn & Billy singhWonderfulh& gThe two of ush
Bobby, Marilyn and Billy do gYou donft have to be a starh
Bobby singshFeelingsh
Bobby joins Marilyn & Billy for a Ray Charles medley: Hit the road, Jack/I canft stop
Lovinf you & whatfd I sayh
Episodes #66
Jan. 16, 1978 Guest: Anne Murray & Jay Leno
@Bobby sings, "International medley"& "Don't go breaking my heart"
"Afternoon delight" with Anne.
<![if !supportLineBreakNewLine]>
<![endif]>
Episodes #67 Guest: Kelly Garrett & Jackie Mason
Bobby singshMoreh&hBridge over troubled waterh
Kelly singshBeautiful musich
All tribute to GuyLombardo.
Episodes #68 Guest: Lanie Kazan & Skip Stephenson
Lainie singshOne fine morningh
Bobby singshStrangers in the nighthhHpw deep is your loveh&Big band medley
Eposodes #69 Guest: Marilyn Michaels & Bruce Murray
Marilyn singshParadeh
Bruce singshWho, What, When, Where, Whyh
Bobby singshPaloma BlancahhYa got troubleh&hYou donft have to be a starh
Episodes #70 Guest: Richie Havens & Denise McCann
Richie singshIt was a very good yearh&hShadow of the pasth
Denis singshTatoo manh
Bobby singshDo you wanto to danceh& Chopin medley
Episodes #71 Guest: Donna Fargo & Michael Rapport
Donna & Bobby do a country medley: gForzyh gThe happiest girl in the whole USAh
gAnytimeh& gDetourh
Bobby sings gHeh
Episodes #72 Guest: Patti Page & Steve Bluestein
Bobby sings, gLet me be thereh
Patti singshDonft make my brown eyes blueh
& a medley of her hits
Episodes #73 Guest: Gloria Loring & Tom Dreesen
Gloris singshHere you come againh
Bobby & Gloria duet with gYoufre my soul & inspirationh
Bobby sings gSweet Carolineh & gKilling me softly with her songh
Episodes #74 Guest: Sheree Jeacocke, Stephanie Taylor & Tabby Johnson
Sheree & Stephanie duet withhLove makes a womanh
Tabby singshGood timesh
Episodes #75 Apr. 3, 1978
Guest: Trini Lopez, Michael Rapport & Willie Tyler & Lester
@Bobby sings, "He""Travellin' band".Trini does a medley of "Lemon tree""If
@I had a hammer" & "La bambah


<![if !supportLineBreakNewLine]>
<![endif]>
Repeating Broadcast
Oct. 24, 1978 Guest: Tom Bresh, Fred Travalena & Ren Woods.

Nov. 14, 1978 Guest: Tom Bresh & Chita Rivera.

More episodes will be added....
@
@
@
@
@
@
@
@
@