<<Bobby on the Ed Sullivan Show>>

Ed Sullivan Show Broadcast data
First telecast: June 20, 1948
Last telecast: June 6, 1971
On CBS Sunday 8:00-9:00 P.M.(from Mar. 1949)
Host: Ed Sullivan


He appeared 10 times on this famous TV show.

Appeared date/Songs
Jan. 19, 1964/Hit medley, When my baby smiles at me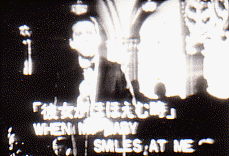 Mar. 22, 1964/My heart belongs to only you
June 28, 1964/Tell me why, Mama don't allow, Instrumentals
Mar. 28, 1965/Long lonely nights, Hit medley, Tribute to Broadway
songwriters
May 29, 1966 unknown
Nov. 20, 1966/Coming home soldier
Apr. 23, 1967 unknown
July 6, 1969/Hit medley, Those were the days
March 8, 1970/My elusive dreams, Baby take me in your arms
repeat broadcast on June 28, 1970
Sept. 27, 1970/(From Baltimore Civic Center) London Bridge-Knees up
Mother Brown-Whoops A Daisy-In a Londoner-Old Bamboo-It's a long way to Tipperary, For me and my gal(with Karen Wyman)
repeat broadcast on May 2, 1971
Any information for the songs peformed on that dates will be added.