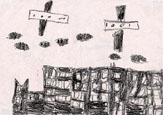 MY CITY
(Kosovska Mitrovitsa)
by Mitar Golyak
8 years old.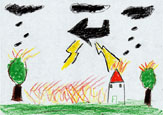 MY CITY
(Kosovska Mitrovitsa)
by Iovan Mladjovich
10 years old.
MY CITY
(The Albanians
Burnt My House)
By Haidihi Rabie (Roma)
11 years old.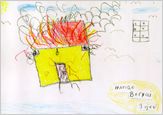 MY CITY
(Kosovska Mitrovitsa)
By Hatige Bytyqi
9 years old.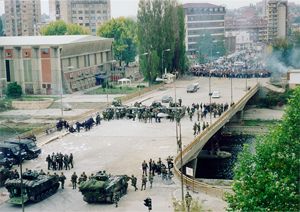 A bridge is used to unite people.

But not in Kosovska Mitrovitsa (in the North of Kosovo-Kosova) where a bridge, barbed wire and the French troops separate two human groups the Muslim Albanians and the rest of the Kosovars (the Orthodox-Christian Serbs the biggest group among them) from ethnic hatred and mutual extermination.

The fact that the Mitrovitsa bridge was erected exactly ten years after the fall of the Berlin wall, is very important for human history and may hint us about what the 21st century may become: not a century separated by two ideologies but a clash of values and ethnic identities.
ARTISTS WITHOUT BORDERS

is a neutral organization. In this page the spelling Kosovo-Kosova is used in order to guarantee total neutrality. Kosovo is the Serbian name, while Kosova is the Albanian name for the Autonomous region of Kosovo and Metohia in the South of Serbia, ex-Yugoslavia (now Serbia and Montenegro).
Strict neutrality was kept during the workshops held by

ARTISTS WITHOUT BORDERS

on both sides of Kosovska Mitrovitsa in which more than 1.000 Albanian (in the South side) as well as Serbian, Montenegrin, Gorantsy, Roma (Gypsy), Turk and Muslim Slav kids (in the North side) drew Japanese calligraphy, learnt origami and answered the messages from Japanese children.
The children of Mitrovitsa were also asked to draw "MY CITY".

And this is what they drew

(see leftside):