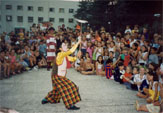 A performance in Nishka Banya.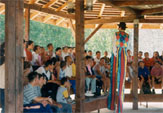 A selected audience:
The refugee children in Smederevo.
In Novi Sad, whose bridges were destroyed by NATO, Japanese clowns create bridges of friendship

ARTISTS WITHOUT BORDERS

and the clowns of HAN MIME KOHBOH (PANTOMIME ARTISTS COMPANY) took humanitarian relief in the form of art and entertainment to more than 5.000 people, children and adults, refugees from Croatia, Bosnia and Kosovo/a who are now displaced in different parts of Serbia.
Tokjo Do Srbja !
From Tokyo to Serbia
During ten days (July 6-15 /2000)

ARTISTS WITHOUT BORDERS

together with (literally) "the funniest" clowns of Japan, toured ten cities in ex-Yugoslavia (now Serbia and Montenegro) offering free concerts to the refugees and displaced persons in Belgrade, Panchevo, Nish, Aleksinats, Nishka Banya, Bachka Palanka, Smederevo and Novy Sad.
Thanks to the marvelous coordination of the local organizations Belgrade Cultural Center, CEDEUM, the association ZDRAVO DA STE/HI NEIGHBOUR and others,

ARTISTS WITHOUT BORDERS

was able to deliver smiles and beauty to the innocent inhabitants of ex-Yugoslavia who (specially the children) were not only victims of war, but also of economic sanctions.
ARTISTS WITHOUT BORDERS, the humanitarian organization of the artists,

also brought presents and donations to the children ailing from Cancer to the Oncological

Institute

in

Belgrade

and brought art, smiles and beauty to the Serbian children, refugees from Kosovo, who are now displaced in the

Kalujeritsa Refugee Camp.