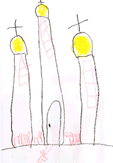 CATS AND DOGS GO TO THE CHURCH
Sandrik Kuprava
6 years old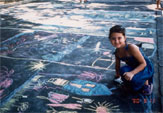 An Abkhazian girl during a street-painting contest in Sukhumi, the Abkhazian capital.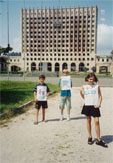 Abkhazian children display "HARMONY","FRIEND" and "DREAM" in the devastated center of Sukhumi. >

ABKHAZIA
APSNY*
During August

ARTISTS WITHOUT BORDERS'

mission took place in Sukhumi, the capital of Abkhazia.
Abkhazia was an autonomous republic in Georgia before the collapse of the Soviet Union. After a cruel war ignored by the media, it gained a de facto independence that is still ignored by everyone.
The talented children from the Sukhumi Youth House attended

ARTISTS WITHOUT BORDERS'

workshops, learnt origami and Japanese calligraphy and sent their messages to Japanese children.
* APSNY is the name of Abkhazia in Abkhazian language.