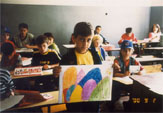 7 year old Levan Achishvili, a Kistin (Chechen Georgian) boy displays his view of "HARMONY".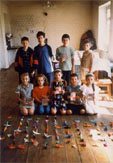 Chechen & Kistin children in front of the origami they learnt during AWB workshops.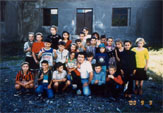 An AWB volunteer among the Chechen children after a workshop.

CHECHNYA / ICHKERIA
VAINAKH*
Around 10.000 Chechen and Kistin (Chechen Georgian) refugees are now in the Pankisi valley (north of Georgia).
About 100 Chechen and Kistin children, refugees in the villages of Duisi, Djokolo and Omalo (Pankisi valley), received the best crayons of Japan and other presents, participated in

ARTISTS WITHOUT BORDERS

art workshops, learnt origami and Japanese calligraphy and sent their outstanding drawings to the world.
On behalf of KiDS WiTHOUT BoRDERS/PeTiTS SANS FRoNTIèRES, hundreds of messages from the children of Japan were delivered to the children who have been victims of war in the Caucasus.
* VAINAKH is how CHECHEN people call themselves.
ICHKERIA is the ancient name of CHECHNYA and is the name pro-independence minded Chechens give to their homeland.