Thanks to the kind participation of
MEDIA FACTORY
NORTHWEST AIRLINES
the magnificent coordination of
FREE ARTS
for abused children of New York City
and the generosity of


Sandra Agreda

&

Giovanni Zapata
our mission in New York City has been accomplished!
Children of the

Public Schools 234

and

89

in Lower Manhattan, located meters away from the

World Trade Center

and displaced by its collapse, answered the Christmas cards and Happy New Year messages from Japanese children, imagined

The 36 Views Of Mount Fuji

and learnt

original origami

models.
In Harlem, with the volunteers of

Creative Arts Workshops for Kids,

in Midtown or in Brooklyn, more than 1,000 children in ten schools of New York received crayons, smiles and a message of friendship and solidarity from Japan.
The Twin Towers are standing!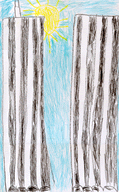 It was a beautiful blue morning... all of a sudden, the world shook!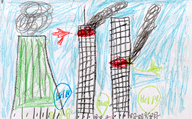 Thousands of lives were lost, ethnic hatred and a new war were triggered, the economy of the whole world was affected, thousands of children in the USA or in Afghanistan lost their beloved ones, hundreds of children in five schools around

"Ground Zero"

were displaced in other parts of Manhattan...
The children of New York City were asked to draw

MY CITY

or

WHATEVERYOUWANT

. And although almost half a year had passed since the day that changed the world, nevertheless they drew the

Twin Towers

of the

World Trade Center

obsessively.

Interestingly, the children of the schools that were located by the

World Trade Center

didn't draw planes crashing against the buildings, but the two towers reigning in the blue sky.
When asked, why he would draw the buildings that don't exist anymore, the answer of a child was simple and determined:
"The Twin Towers are standing!"