After long years of civil war and a repressive Islamic regime, finally there is peace. And after returning from the refugee camps, finally the children (and even the girls who were banned from school) are returning to classes.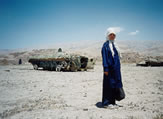 However, there are not enough schools. Therefore, children study in overcrowded classrooms, in the corridors, in tents or under the trees.
Since there are no blackboards teachers write on the wall and, as there are no tables nor chairs, children sit on the floor. But the children lack notebooks and pencils..! Moreover, there are not enough teachers either.
And when there are teachers, Afghan children are given indoctrinating religious education!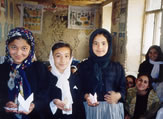 In Dashti Barchi, or Korte Se, in downtown Kabul, in the orphanage Parwareshga in Taimaskan, or in Bamyan, more than 10,000 children received badly needed school supplies and learnt how to create toys and, as the same children said, "share joy with others through a piece of paper" (ORIGAMI).
Pashtoon, Tadjik, Hazara, Kazelbosh, Sayeed, Turkmen... children of all the ethnic groups living in Kabul, Jalalabad and Bamyan participated in

ARTISTS WITHOUT BORDERS'

workshops and had the opportunity to experience another culture.
It was a beautiful blue morning... all of a sudden, the world shook!
THE GREAT BUDDHAS ARE STANDING!
.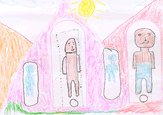 They were built fourteen centuries ago... but the intolerants destroyed them!
Yet by destroying the two ancient sculptures, they made them more important! The Bamyan Buddhas were great, but the attention of the whole world is gigantic!
As the UNESCO and Afghan authorities prepare for the restoration of the cultural heritage of Afghanistan, the reconstruction of the Great Buddhas becomes a real possibility.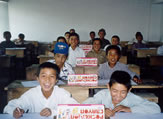 During

ARTISTS WITHOUT BORDERS'

art workshops, not only did children see crayons for the first time, for most of them it was the first opportunity to draw in their lives! And, incredibly, the children of Bamyan when asked to draw

"MY CITY",

they would only draw the Great Buddhas standing.
The caves may be empty, but in the mind of the Bamyan community and specially in the hearts of Bamyan children
The Great Buddhas are standing!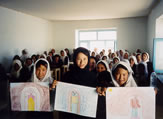 Our mission in Afghanistan has been possible
thanks to the generous support of
PAKISTAN INTERNATIONAL AIRLINES
TAKAMATSU YOSHIYUKI
MICHIKO NEGISHI
INTERNATIONAL COMMITTEE OF THE RED CROSS
SolidaritEs
KIDS EARTH FUND
Aid for War Orphans in Asia