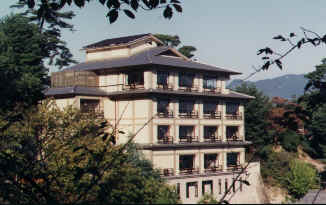 Find the unnoticed charm of Miyajima:
spring's whirling cherry flower, summer's cool breeze through grooves, fall's autumn leaves and winter's intimate snow scene. With these emotional scenes of four seasons Jukeiso hosts you. The hotel is near the Tahoto Tower, and other Five Storied Pagodas, Itsukushima Shrine, Big-Otorii gate which are just like one landscape drawing that can be seen from our dinning room. Also, Jukeiso is located in heights with a seaside view and nearby attractions such as museum, folklore craft, shopping, etc. Please enjoy your private time at our hotel.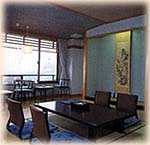 A space full of artistic effects makes in our guests rooms a composure atmosphere.
Some guest rooms are Semi-European style. So even if it were your first trip to Japan, you can feel easy to visit our hotel.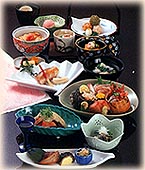 Aki's Miyajima is one of the scenic trio of Japan. The great view of Seto Inland Sea is a peculiarity of Jukeisou. And Meals are delicious sea food blessed by the Seto Island Sea flavor. Wholehearted cooked dishes make your wonderful trip even more entertaining. You can drop in just to eat, so please feel free to come in to enjoy Jukeiso's formal Japanese dinner.
*Of course, we can serve you Easten-Style meals.


* * *


Jukeiso's Meals

During your stay in Jukeiso you have the choice to enjoy our delicious meals.


Option A
Kobachi (entree)
Sashimi
Agemono (fried oysters or tempura)
Chawan mushi
Sunomomo
Anagomeshi
Tsukemono (pickles)
Soup
Fruits

Option B
Kobachi (entree)
Appetizer (hours d'ouvre)
Oysters Gratin (*not in all seasons)
Agemono (fried oysters or tempura)
Chawan mushi
Japanese pot (nabe) (*only in winter)
Sunomomo
Anagomeshi
Tsukemono (pickles)
Soup
Fruits


Kobachi: A small entree generally composed by seasoned japanese vegetables.
Sashimi: Row fish, served with a garden of radish and sea weeds.
Fried Oysters: Oysters are one of the famous regional dishes recognized throughout the country. Served with salad and a special sauce.
Tempura: Beautifully arranged fried sea food and vegetables, usually you can top by yourself with dry curry, salt and soy sauce.
Chawan Mushi: Egg custard cooked by steam of water. The main ingredients are chicken, shrimp and Japanese mushrooms.
Sunomono (Vinegared dish): This a vinegared fish or shellfish served with vegetables. The fish is sprinkled with salt and then marinated in vinegar. The fish might be steamed, broiled or raw.
Anagomeshi (Cooked rice with conger eel ): Rice served in a bowl seasoned with soy sauce and accompanied with conger eel. This is also one of the regional specialties.
Oysters Gratin: Baked oysters are served on their shells and topped with white sauce and cheese.
Japanese Pot (Nabe):
A pot containing vegetables, sea weeds and sea food into a soup. On the table, the pot is put over fire.



* * *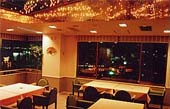 Observation Restaurant and Lounge
"Top View Miyajima"

Please enjoy cooking of conger and oyster, Setuchi sea foods while seeing Miyajima's beauty spot. How about a cocktail while watching a wonderful light rise at night?
Hours/
11:30~15:00(last order14:00)
17:30~23:00(last order20:00)