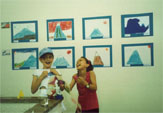 Armenian children get surprised at the KiDS WiTHOUT BoRDERS exhibition.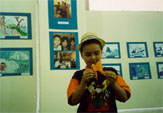 The magic of origami!
A flapping dove made out from just a piece of paper.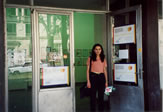 Tatevik Yeghiasarian and Mr. Stephan Prevost invited the KiDS WiTHOUT BoRDERS exhibition to Armenia.

ARMENIA
HAYASTAN*
KiDS WiTHOUT BoRDERS, The outstanding

Exhibition Of The Drawings By The Children Of Kosovska Mitrovitsa, the divided city

took place under the title
WHAT DO CHILDREN DRAW?
THE DRAWINGS BY THE CHILDREN OF KOSOVO/KOSOVA at the Children's Art Museum Of Armenia, in Erevan.
This exhibition also featured

The 36 views of Mount FUJI

and

The 36 Imaginary Views of Mount ARARAT

created by Japanese children who are members of KiDS WiTHOUT BoRDERS.
* HAYASTAN is the name of Armenia in Armenian language.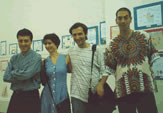 Volunteer artists during the exhibition.