DE HAITÍ
A JAPÓN
Exposición
de dibujos de los niños de Haití
Un año después del desastre,
pequeños artistas haitianos nos han enviado un importante mensaje
Esta es una exhibición del arte creado por niños haitianos en los talleres de ARTISTAS SIN FRONTERAS durante el mes pasado. A la vez que agradecemos a quienes hicieron posible esta misión,queremos invitarlos a todos a una noche de poesía y música.
Exposición

abierta desde el sábado 16 de abril hasta el viernes 29

En

el Ben`s Café en Takadanobaba (http://benscafe.com)
Tokio, Shinjuku-ku Takadanobaba 1-29-21 Tel: 03-3202-2445

Entrada:

GRATIS

Abierto

todos los días de 11:30 a 21:00

Mapa:
Inauguración:

Sábado 23 desde las 18:00

Lectura
de poesía a cargo de Héctor SIERRA
Y otros artistas
* Las donaciones recibidas durante esta exposición serán donadas a la siguiente misión de ARTISTAS SIN FRONTERAS en el noreste de Japón.
http://www.haitinokai-cesla.com
http://www.artwit.org
CONCIERTO "ARTISTAS SIN FRONTERAS en Haití" ・ Domingo 20 de febrero de 2011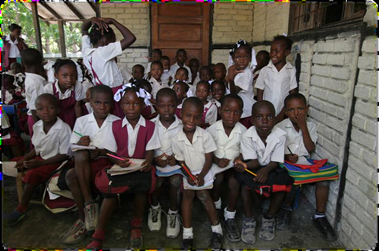 Finalmente una misión de ARTISTAS SIN FRONTERAS partirá hacia Haití durante marzo.
Y para despedir a los cuatro voluntarios que estarán trabajando con niños de escuelas y orfanatos de Port-au-Prince, tendremos un concierto con jóvenes y prometedores artistas.
MIZIKADO・UN CONCIERTO PARA HAITI
Octubre 29(viernes) 2010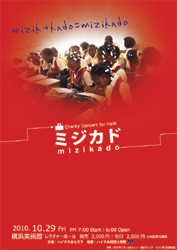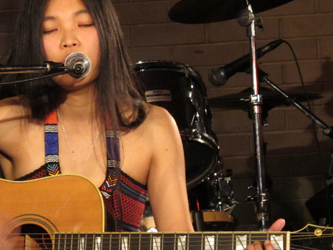 Musica de nuestros ancestros y un mensaje del planeta
En la voz de la linda MAKIYO
Lectura de poesia, el sonido de una nueva banda
Y el estreno de canciones originales
Artistas:
Hector SIERRA (lectura de poesia en japones, espanol, ingles)
MAKIYO (voz)・Natsuki KURAI (armonica)・Shonari HIRANO (percusion)・Takahiro MISAWA
(guitarra)
Canciones originales: MAKIYO, Hector SIERRA
Fecha:
Viernes 29 de octubre 2010 (19:00 p.m.~21:30 p.m.)
Hora:
18:00 Las puertas se abren
19:00 Empieza el concierto!
Lugar:
Yokohama Bijutsukan Lecture Hall
Linea Minato Mirai, Estacion MINATO MIRAI
(a 3-min. de la salida 3)
Valor entrada:
Con reservacion: 2.000 yenes
Sin reservacion: 2.500yenes
Reservaciones:
info@mizikado.como 090-4029-2641(Sra. Misawa)
http://www.mizikado.com/
VALLENATO SIN FRONTERAS en CAFÉ y LIBROS con "LOS JUGLARES VALLENATOS"
Viernes JULIO 17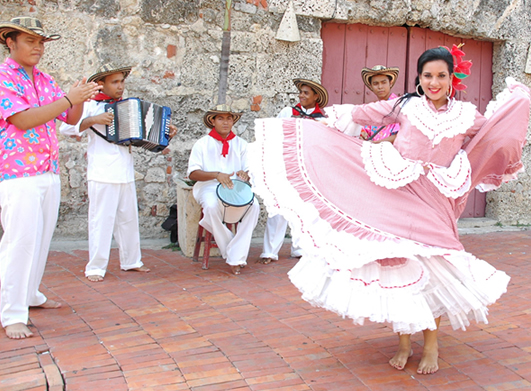 Con el auspicio de la Embajada de Colombia
El vallenato es un género musical colombiano tanto o más romántico que el bolero o la bachata. Aunque un tanto desconocido en Japón, es interpretado internacionalmente.
Esta será la oportunidad para disfrutar las tradiciones culturales de Colombia con el ritmo de seis músicos profesionales que vendrán desde Colombia especialmente!
Al igual que SALSA SIN FRONTERAS, este evento se realizará para recaudar fondos para las actividades humanitarias de ARTISTAS SIN FRONTERAS (http://www.artwit.org).
Artistas:
"LOS JUGLARES VALLENATOS"
Una clase de salsa: VICTOR (Cuba)(19:00~19:30)
DJ: SAMURAI LATINO (Los Kalibres)
Fecha:
Viernes JULIO 17 2009
Hora:
From 18:30 - 23:00
Lugar:
CAFÉ y LIBROS
Tokyo 141-0021 Shinagawa-ku Kami-Osaki 2-20-4
Tel: 03-6228-0234  Fax: 03-3491-4460
Valor entrada:
Con reservación: 3,500 yenes (reservar hasta julio 16)
Sin reservación: 4,000 yenes
Las entradas incluyen: una bebida, una empanada, una lección de salsa (19:00~19:30 pm), un show y todo-lo-que-quiera-bailar!
Reservaciones:
info@cafeylibros.com
Ceramistas Sin Fronteras 2008
La exposicion "Ceramistas Sin Fronteras 2008" tuvo lugar de septiembre 1ro. a octubre 15 de 2008 en las instalaciones de la Escuela Internacional del Sagrado Corazon en Tokio.
Talentosos artistas de diferentes paises contribuyeron obras originales con el fin de hacer posible la proxima mision de ARTISTAS SIN FRONTERAS.
Las obras donadas fueron subastadas al mejor postor durante la exposicion y durante el bazar anual de la escuela en Hiroo.
Entre los artistas participantes estan:
CONCIERTO SEPTIEMBRE 11 POR LA PAZ
~Artistas unidos por la paz~
Siete aNos han pasado desde el dIa que cambiO al mundo. El 11 de septiembre de 2008 artistas del mundo se reunirAn para transmitir un mensaje especial.
AdemAs se proyectarA el video documental "Pintamos ese dIa" s0bre los niNos de Nueva York y AfganistAn. Este documental fue realizado por el escritor y cineasta colombiano HEctor Sierra, quien ademAs leerA su poesIa.
Que el poder del arte y de la mUsica cambien el mundo...
Artistas:
Rotary Peace Connection (voz)
NOBU-KC (voz, teclado)
Acousphere (guitarras)
Hideaki Masago (flauta indIgena)
Hector Sierra (video, poesIa)
Fukamachi Jun (teclado)
Date:
Septiembre 11th (jueves) 2008 
Time:
De 19:30 a 22:30 (Las puertas se abren a las 18:30.)
Place:
Cafe & Livespot FJ's
(8 min. a piE de la estaciOn Yutenji, lInea Tokyu Toyoko; 12 min. desde la estaciOn Nakameguro)
Reservaciones:
03-3760-2825
Valor entrada:
De acuerdo a su generosidad
(Todos los asistentes recibirAn a la entrada un tiquete para una comida equivalente a 1000 yenes)
Organizado por:
Rotary Peace Connection
DRAW THIS WORLD-A PESAR DE TODO LOS NINOS PINTAN
ExposiciOn de arte creado por niNos enfermos de leucemia en Iraq, Y por niNos vIctimas de Septiembre 11 en Nueva York y AfghanistAn.

Fecha:
Octubre 6th~12th, 2008
Hora:
De 10:00 a.m. a 8:00 pm (el Ultimo dIa abierto hasta las 3:00 p.m.)
Lugar:
Universidad Aoyama Gakuin (Shibuya) Edificio 7, 1er piso
(5 min. a piE de la estaciOn Omotesando, 10 min. de la estaciOn de Shibuya)
Valor de la entrada:
Gratis
Organizado por:
Blue Birds
Mensaje de Blue Birds:
"Blue Birds es un grupo de estudiantes de la Facultad de PolItica Internacional de la Universidad Aoyama Gakuin. Nuestra primera actividad fue la proyecciOn del documental『Little Birds』 de Takeharu Watai sobre los niNos en Iraq. La imaginaciOn es muy importante para nosotros. Todos los dibujos en esta exposiciOn tienen una historia tras de sI. Esperamos que no solo MIREN estos dibujos sino que tambiEn IMAGINEN. Con seguridad SENTIRAN muchas cosas."

Para mAs informaciOn: dtw08picture@yahoo.co.jp
El blog de Blue Birds (en japonEs) estA en: http://blue-birds.at.webry.info/

A Plan for the Reconstruction of the Great Buddhas of Bamyan
And The Revitalization of the Economy of the Bamyan Valley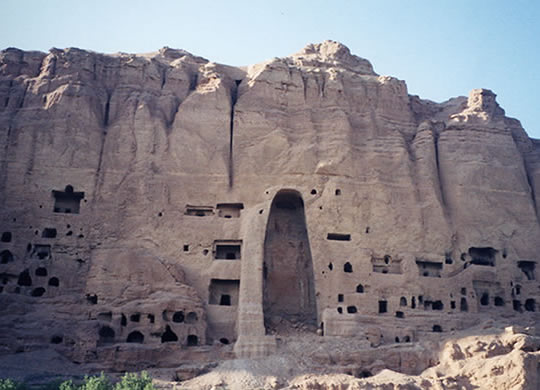 The reconstruction of the Great Buddhas is not being considered at the moment because the material reconstructing of what used to be sand sculptures carved in the mountains would prove very difficult (the structure was considerably damaged during the dynamite explosions, it would be necessary to demolish what was left after the explosions)

However, during

ARTISTS WITHOUT BORDERS

activitities in the Bamyan valley, it was learnt that the local community (the villagers, the teachers, the local children), although devoted Muslims, desired the restoration of the Great Buddhas for a number of reasons:


| | |
| --- | --- |
| - | "The Great Buddhas were part of Bamyan". |
| - | "They were the symbols of Bamyan". |
| - | "They existed before Islam". |
| - | "The Buddhas are not gods". |
| - | "They were left by God as heritage for the Bamyan people". |
| - | If reconstructed, "they would be an attraction encouraging many people to visit the area, benefiting Bamyans". |
| - | Their reconstruction would undo the intolerant and destructive actions of the Talibans who also prohibited photography, television, music, etc., looted and destroyed the Kabul Museum, Kabul's National Art Gallery, etc. |

THE RECONSTRUCTION OF THE GREAT BUDDHAS OF BAMYAN COULD BE ACHIEVED NOT MATERIALLY BUT

VIRTUALLY

(HOLLOGRAPHICALLY)!


The 14th of every month (the day the Buddhas were destroyed) just before sunset, the images of the Buddhas would be projected with a laser beamed from the hill that is just in front of the caves across the valley. The now inexistent Buddhas ("Salsal" and "Shamama", as they have been nicknamed by the locals) would reappear again in the empty caves for

one only minute. It would be a minute of silence in memory of those fallen during the war.

People attending would be encouraged to stand in silence for one minute and pay their respects to the memory of thousands of Afghans who perished during the wars.


!)
This long-term plan of reconstructing virtually the Great Buddhas would not be expensive for it would last only one symbolical minute (projection during the summer time only, when most tourists would visit, can also be considered).
!!)
It wouldn't affect what remains of the standing Buddhas (that could be affected if a material reconstruction is attempted).
!!!)
The laser beamed would be projected from the military post on the top of the hill so that the equipment could be protected.
!V)
The projection of the Buddhas during one symbolical minute (actually it can be longer) would attract hundreds of tourists who would visit the picturesque Bamyan region that my also develop other tourist spots (like the amazing lapiz lazuli blue lakes of

Band-e-Amir

located not far away. See: http://www.aca.gq.nu/).


Rebuilding the Great Standing Buddhas would mean:


| | |
| --- | --- |
| !) | The accomplishment of the aspirations of the local Bamyan community. |
| !!) | The long-term revitalization of the local economy of Bamyan by empowering its inhabitants to create their own wealth (at the moment they depend on humanitarian aid delivered by international NGOs and UN agencies). |
| !!!) | The long-term diversification of the local economy that at the moment is solely agricultural. |
| !V) | An invaluable contribution to bolster the economy of the whole of Afghanistan as foreign tourists and domestic travelers would visit Bamyan and other areas of Afghanistan. |
| V) | The acceleration if the reconstruction and recovery of lost and looted heritage (which is one of the commitments of the new Afghan Interim Administration). |

MY CITY
(Kosovska Mitrovitsa)
A drawing by Kosov@ Albanian
Burim Mehvle
11 years old
MY CITY
(Kosovska Mitrovitsa)
A drawing by Kosov@ Albanian
Lavdim Meholli
9 years old
MY CITY
(Kosovska Mitrovitsa)
A drawing by Kosov@ Serbian
Nemanya Filimonovich
7 years old
MY DREAM
by Miakhti Zubaev
7 years old
Chechnya
BEAUTY
by Fatima Zakhaeva
9 years old
Chechnya
MY DREAM
by Mirza Barchashvili
10 years old
Chechnya
MY DREAM TOWN
by David Kavtarashvili
13 years old
Chechnya
Children of schools by Ground Zero decorate a daruma in collaboration with Japanese children.
Japanese children decorate a white daruma and paint one of the eyes while wishing peace on earth.
Children affected by September 11 after decorating the "daruma of peace" that will be completed by Afghanistan children.

ARTISTS OF THE WORLD

is the program of

ARTISTS WITHOUT BORDERS

under which celebrated artists, outstanding artisans or young promising artists support the activities of the humanitarian organization of the artists
12 JAPANESE DOLLS
is the first exhibition of

ARTISTS OF THE WORLD.

Eminent artists of the world, chosen for the exceptional quality of their work, are asked to contribute to this exhibition by donating their talent in a very artistic way, that is, by decorating in their own style and technique a white daruma.
A daruma is a Japanese doll with no eyes. People buy darumas on New Year or when starting an important activity. Upon making a desire people paint one of the eyes; and when the desire comes true, only then they paint the second eye.
Participating artists include:
JEAN MARIE ZACCHI, French painter and honorary president of the French Artists Association.

LILIANA BURSACH,

outstanding ex-Yugoslavian (now Serbia and Montenegro) painter from Belgrade. Risking her life, LILIANA BURSACH has created art on the bridge of the divided city of Kosovska Mitrovitsa (Kosov@).

TAFIL PECI

(Tafa), promising young Albanian artist from the South of segregated Kosovska Mitrovitsa (Kosov@).

SAKURAI TAKAYOSHI,

distinguished contemporary nihonga painter.

OMAR RAYO,

celebrated Colombian painter living in New York.

CHRIS EARNSHAW,

a British teacher of Japanese callygraphy. A neurologist by education CHRIS EARNSHAW is also is the author of several books.

SANJE ELLIOTT,

remarkable American painter of traditional Tibetan (Thangka) paintings.

BORIS EGHIASARIAN,

talented and very promissing Armenian artist living in Ukraine.

KADOWAKI SHUNICHI,

notable painter of shunga (Japanese erotic painting).

LI YU XING, promising

Chinese artist and designer, Li Yu Xing is a very active promoter and teacher of contemporary calligraphy in Japan.

HERI DONO,

astonishing avantgardistic artist from Indonesia, called South Asia's Picasso.
JADRANKA STOJKOVIC. Known as a singer and composer (her credits include the theme-song of the Olympic Games in Sarayevo,1984), JADRANKA STOJKOVIC (read Yadranka Stoikovich) is a Bosnian painter living in Japan.

NANA KAWATA.

Young and very promissing Japanese artist prematurely deceased at age 25. A postomous work, Nana Kawata's daruma will be decorated by her sister using motifs of Nana's work before her sudden decease.
* Japanese names are written in the Japanese way with the family name followed by the first name.