BR80(#5504 from train set #55042) with ESU LokSound XL
<Trial Version>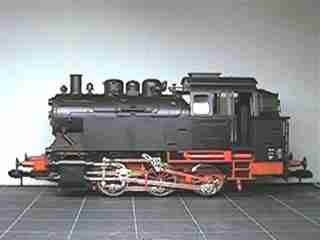 This page shows installing LokSound XL decoder & sound effect circuit for BR80 Steam locomotive(from train set #55042 train set).
This is a 'trial version'. I will developed more good arrangement and add some gimmick in near future.
Tasks of the project:
Install a LokSound XL to BR80 steam locomotive.
Install must be done without change of exterior, include cab interior(=what you see must not change).
In this version, I test a character of LokSound.
Arrangement of equipment:


Points:
The LokSound XL installed in speaker box.
Original c95 decoder is naturally taken off.
No circuit cooling system.
Speaker set at front of motor.
Details:
<Electric equipment>
LokSound XL is (temporally) installed in speaker box.

Speaker is non-ESU 8-ohm/ 0.3W/ 40mm dia conventional speaker.

A 24-ohm 1/2W resistor is connected in series to speaker circuit to match impedance of speaker to genuine ESU speaker.

For better programming stability (of CVs), there is a cut-out switch for speaker in under side of speaker box.

<Speaker box /Acoustics>

Points:
Speaker box made by 1.2mm thickness styrene plastic plate.
Original boiler cover used as upper cover of speaker box.
Drawing of speaker box:

Additional tips:
The genuine sound of original BR80 loco by Mr.Thomas Vollering , can be download from ESU web site.
Conclusion:
I am now doing many test and trial for LokSound XL with this locomotive.
Final arrangement will be changed by some technical reasons.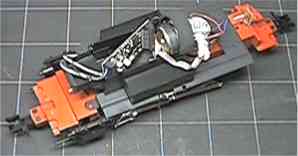 To be continued...........
Copyright © 2001 by Jun Maeda / KOBE JAPAN