KofII(#5578) with #658530 MAXI-Delta decoder.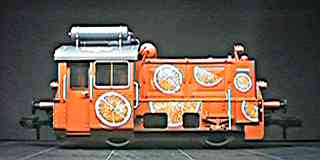 This page shows installing #658530 Delta decoder for MAXI loco for KofII locomotive.
Tasks of the project:
The KofII loco equipped with old gauge 1 digital circuit.
There are genuine conversion circuit board from marklin, but it is no longer available as far as I researched.
I installed #658530 Delta decoder from E69 MAXI loco to KofII instead of original decoder.
No additional function.
Arrangement of equipment:
Original arrangement with old gauge1 decoder.

Arrangement with #658530 Delta decoder.

Points:
#658530 Delta decoder fixed in backward of engine room.
Additional circuit board that mounted register for slower speed and connecters for motor/power supply and lights mounted over the decoder.
Details:
<Decoder>
#658530 Delta decoder fixed in backward of engine room. The decoder fixed to body by plastic screw and washer at the place of yellow allowed point.

Additional circuit board fixed by C shape metal fitting.

Register for reduce the speed of loco.
Connecters for lights
Connecters for rail and motor.

Conclusion:
The KofII got easily got new digital format 'brain'
The slow running character is not so bad because of original high quality motor and gear system.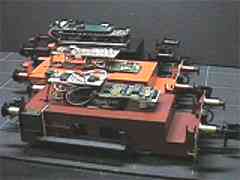 Copyright © 2000 by Jun Maeda / KOBE JAPAN