Achtung! for steel ball in worm gear of MAXI Locos.
If you have overhauled MAXI loco, you must check there are small steel ball in bottom of worm gear or not.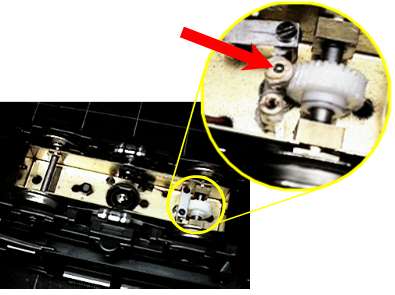 It is a silver ball pointed by red arrow in above photo. It works as simple bearing for worm gear. I didn't know there are such small parts. One day I happen to find it in gear box. One of them missed sometime without my notice.
I searched all over carpet again and again like snoopy but at last I gave up.
The parts number of the steel ball is "#202425 Kugel".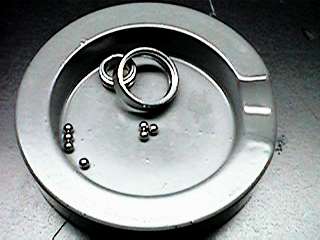 If you can't get it from your dealer(=I am), it can be collected from small ball bearing.
I used steel ball of ball bearing :'KOYO bearing B695ZZ'(or NTN B695ZZ) instead of genuine parts.
This is a tiny trap in large locomotive. You must care for it, if you don't want to crawl on floor!
Copyright © 2000 by Jun Maeda / KOBE JAPAN