Did you bought Bookshelf from Germany?
This is a word of post man who brought VTG-train(#55721) set to my home.
I expected the box of the set may be considerable huge, but the expect was under estimated.
Please take a look at next picture: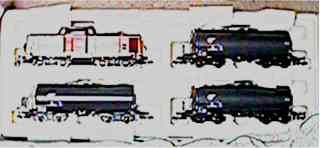 This is a picture(sorry for poor quality) of the set on it's box. The dimensions of the box are 100cm(width)x 44cm(hight)x 20cm(depth).
There's no difference for arrangement of the toys on the box from HO or Z. I thought märklin makes a two box- one Loco and one tank wagon, another two tank wagons, - and stuck them to reduce the dimenison(width). But the fact was above.
I thought, we(= overseas custmers) must make a data base of box dimensions and net weight for large gauge 1 products. At that point of view LGB is better. They indicate weight of the products on thier catalog.
I'm afraid that the dimensions and weight of new '55031 Premium-Digital-Startpackung Profi 1'!
What the post man will say if(uhmmm may be) I bought the set?- The answer will be "Did you bought fridg. from Germany?" - only in my thought......
Copy right © 2000 by Jun Maeda / KOBE JAPAN