Add Function(Lf/Lr) to märklin #6096 c96 function decoder.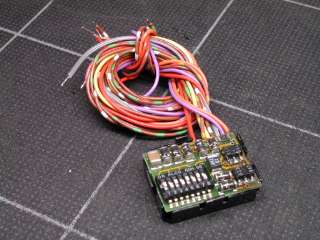 This is a project for add Lf/Lr function to märklin #6096 c96 function decoder.
Special note for this project!
This project requires skill for precise soldering for SMD parts. It is not so easily carried by conventional soldering skill as usual appeared in Jun's @Gauge1 page. If you don't have enough experience for precise soldering, please wait for märklin will deliver c96-1(#60961). It (may be) contains same function with result of this project.
Task of this project:
c96 has four extra function outputs (f1-f4) but doesn't have Function(Lf/Lr) that change over by direction of travel.
It is not so useful to use f1- f4 for head / tail light of 'Steur Wagen(example VS98 etc.).
c96 already has 'land' for add Function(Lf/Lr) so it is be able to activate only solder two transistor and three resistors!
Additional Circuit :
The additional circuit is:

Required parts list:
These parts are required for this project.
| | | | |
| --- | --- | --- | --- |
| ID# | Description | Value | Qty. |
| Tr101,Tr102 | BST51 |   | 2 |
| R101,R102 | 473 | 47k ohm | 2 |
| R103 | 3R3 | 3.3 ohm | 1 |
Arrangement of additional parts:


Completed circuit:

Conclusion:
The extra function output added to c96.
Some of 'in stock' c96 get a possibility to convert for c96-1.
Reference:
Copyright © 2001 by Jun Maeda / KOBE JAPAN