BR140(#54213) with c95 decoder and #56560 sound effect circuit.
This page shows changing the decoder to conventional Gauge 1 decoder c95 and installing #56560 sound effect circuit for BR140 two motor electric locomotive.
More detailed information(electric circuit chart etc.) coming in future.
Tasks of the project:
Change the decoder to conventional Gauge 1 decoder c95 to get more good running character.
Install #56560 sound effect circuit for the whistle(only high pitch horn is used).
No drilling, cutout for original body or chassis.
Install must be done without change of exterior, include cab interior(=what you see must not change).
No function must be deleted(headlight control etc.).
Stability for daily operation and play with RC(radio controled) vehicles.
No modification in c95, #56560, original lighting unit.
Original arrangements of #54213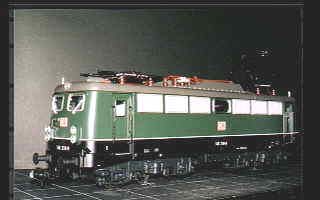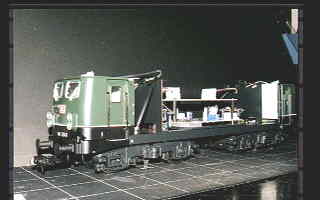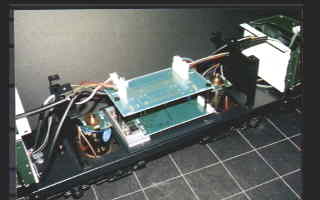 Points:
The original circuit board(Delta) already have 10 pin connector for #56560(common parts with F7?). It can activate the sound only put #56560 circuit into the connector and controled by reed switch or conventional switches(simply short the two pair of switch connector pin on Delta PCB). The engine sound is always 'ON', 'horn' and 'high/low pitch(for F7 bell) are switchable(not remote controled).
Running character of the original decoder is as bad as other MAXI-Delta decoder, e.g. no slow running character, no acceleration control, no road compensation control etc..
Head/tail light control circuit is very differ from conventional gauge 1 loco or conventional MAXI.(->see front/rear light control interface relay circuit for c95 or c95/2 to MAXI loco with LED head/tail lights(sorry, under construction).
All the electric equipment except motor and lights should be exchange for achieve my tasks.
All equipments are removed.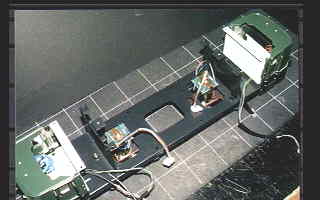 Points:
An opening on center of the chassis is originally for address setting DIP switches, but it will be act as opening for speaker in new configuration.
New chassis for hold all electronics equipment is needed.
Details:
<Speaker / Acoustics>
Points:
There is a large space for the speaker in this loco, the original speaker comes with #56560 sound circuit can be installed.
The speaker is firmly fixed by four steel fittings.
Sound comes out from opening on floor. Whole locomotive body acts as large capacity enclosure. No resonance dumping is needed.
<Electronics Chassis>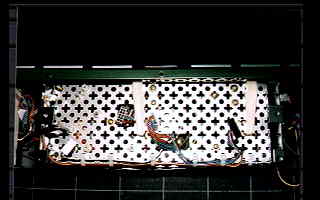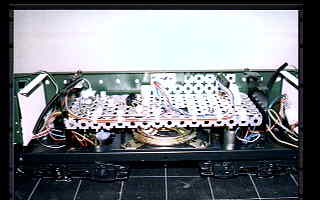 Points:
Electronics Chassis is made from punched aluminium plate.
To avoid interference for sound resonance and no minimization of enclosure capacity, the plate should be 'punched'.
Four corner of the plate bended to strengthen the chassis.
<Head/tail light interface>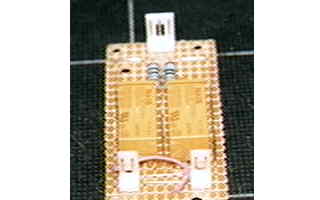 Points:
For convert the difference of head/tail light system between original and c95, I made an interface circuit board.
It has 3-pin inputs(Lf , +U, Lr) and two pair of 2-pin outputs(each for #1 and #2 head/tail lights).
This circuit exists to avoid complicated re-wire on original head/tail lights unit.
Please refer here for detail of this circuit.
<c95 or c95/2?>
At first, I consider c95/2 is best decoder since this locomotive has two motors. But due to the less current consumption of the motors, it seems to be feedback control for load compensation does not works perfectly.
Comparison of c95 and c95/2(for reference original DELTA and 2x#60955):
| | | | | | |
| --- | --- | --- | --- | --- | --- |
| Decoder | Load comp. | Slow running | Accel. cont. | Overheat | functions |
| org.DELTA | No function | N.G. | No function | No problem | No function |
| c95 | O.K. | O.K. | O.K. | No Problem | 4 |
| c95/2 | N.G. | N.G. | O.K. | No problem | 4 |
| 2x#60955 | O.K. | O.K. | O.K. | No problem | 2 |
According to this result, I chose c95 for this unit.
2x#60955(in same address settings) also works fine. It will be a good choice for any other application. But in this case f3 and f4 cannot be available(but with 'shunting mode' by turn on f4).
<How about overheat problem of #56560?>
Almost all part of MAXI BR140 made of steel or cast metal and has enough inner capacity. So the loco has good radiation character itself. During bench test there are no thermal problem.
<Final fitting>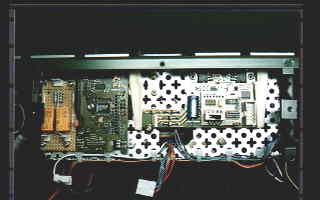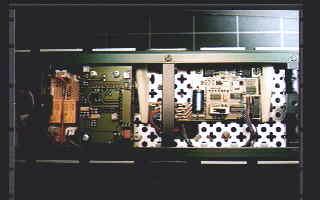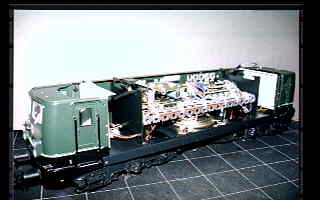 Points:
All the electronics equipments are fitted on electronics chassis.
(from left to right:) Head/tail light interface ~ #56560 sound unit ~ #6095 c95 decoder.
c95 decoder fixed by printed circuit card holder.
All the pot and DIP switches on #56560 and c95 set in upward, so adjustment can be made only open the roofs.
All wire harness has nylon connector for easy maintenance.
Conclusion:
All the tasks I enforced for myself has achieved.
MAXI loco can be get higher running potential by change a decoder.
A highpitch horn of BR218 is used in place of whistle, but this gives me more than "better than nothing" effect. It's very attractive!
Copyright © 2000 by Jun Maeda / KOBE JAPAN