V100(#544340 from train set #55721) with #56560 sound effect circuit.
This page shows installing #56560 sound effect circuit for V100(from train set #55721 VTG train set).
More detailed information(electric circuit chart etc.) coming in future.
Tasks of the project:
Install the sound effect circuit for larger(than V36) space loco with more good sound quality.
Install must be done without change of exterior, include cab interior(=what you see must not change).
No function must be deleted(running character, telex, headlight control etc.).
Stability for daily operation and play with RC(radio controled) vehicles.
Arrangement of equipments: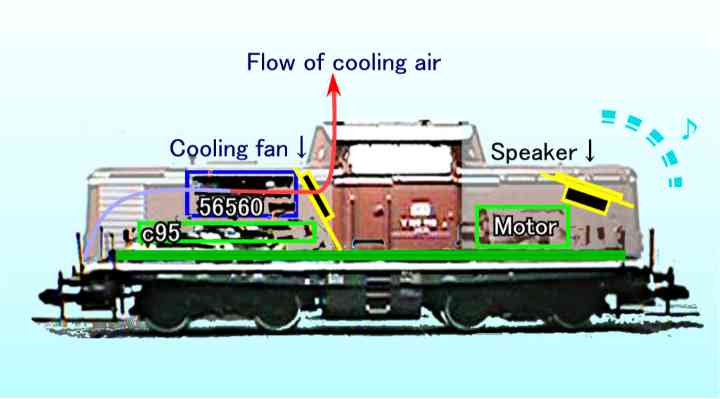 Points:
The #56560 circuit board installed upper of c95 decoder.
Place of c95 does not change.
Cooling fan installed underside of smoke stack.
Speaker set in place of steam generator on real loco.
Details:
<#56560 sound effect circuit>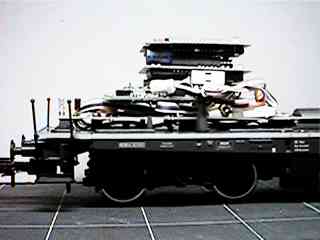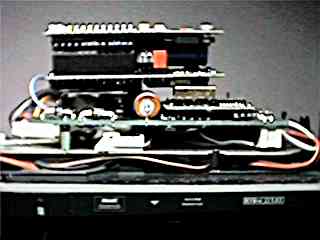 Points:
#56560 sound effect circuit put on a 'Z' profile metal fitting fixed on the floor.
Setting for pots on c95 can be made by 'swing' #56560 with metal fitting.
Motor outputs picked up from PCB pattern on the way to motor.
Motor and speaker wiring has nylon connector for easy maintenance.
<Speaker / Acoustics>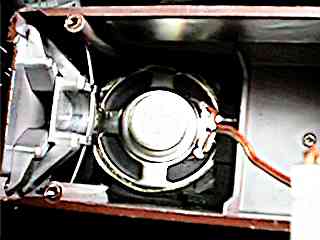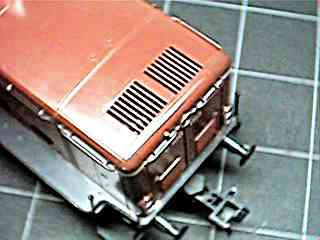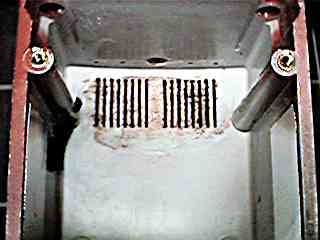 Points:
A Speaker changed for 8 ohm 5cm small speaker.
Black painted 2x 1.2mm(=2.4mm) thickness styrene plastic plate as a baffle board.
Engine room acts as an enclosure. Engine room and cab are dumped by butyric rubber pad.
A speaker tilted not only for space problem but also for reduce reflection from floor, roof and side wall of engine room.
Opening for sound on the roof of steam generator hood, shaved from back side of steam boiler chamber. It took about five hours to shave 1mm thickness(by Dremell mototool)!!
<Cooling fan>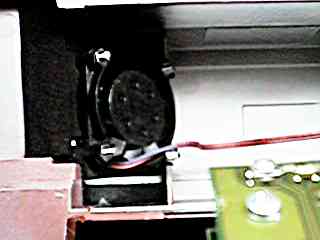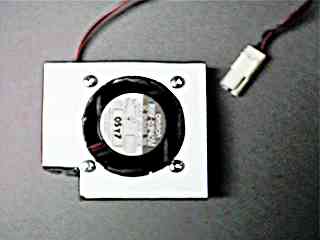 Points:
For cooling the circuit, small fan for PC's(18V-DC) installed under side of smoke stuck.
The air draw in from bottom edge of the engine room and get off from smoke stack.
Insulation partition of air made by styrene plastics.
Aluminium inner sheet is stuck for:

Insulating from radio wave by RC equipments(when play with RC friends!)
Heat radiation.
Dump the resonance of engine / horn sound.

The effect of cooling fan can be seen in here.
Conclusion:
All the tasks I enforced for myself has achieved.
Very good sound quality and large volume has achieved.
Steam boiler's grill got great reality by making opening.
This is my second sound locomotive. Interference of two loco's sound is very attractive. Especially when the locos are double headed.
Copyright © 2000 by Jun Maeda / KOBE JAPAN