V36(#55302) with #56560 sound effect circuit.
This page shows installing #56560 sound effect circuit for V36(single engine with TELEX couplers)
More detailed information(electric circuit chart etc.) coming in future.
Tasks of the project:
Install the sound effect circuit for small space single engine(=without 'sound wagon').
Research electric/ acoustic/ .... character of #56560.
Install must be done without change of exterior, include cab interior(=what you see must not change).
No function must be deleted(running character, telex, headlight control etc.).
Stability for daily operation and play with RC(radio controled) vehicles.
First experimental of the sound circuit(checking pin assign, quality of sound etc.).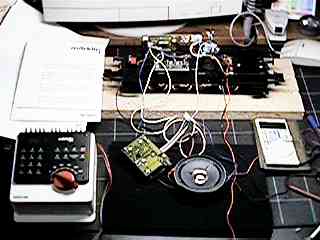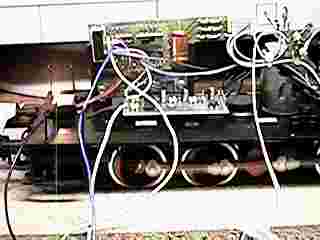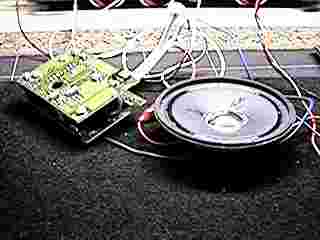 Result:
Pin assign of #56560 discovered(-> see @DIGITAL/#56560)
The circuit makes a lot of heat.
The sound comes from circuit is very nice.
Space requirement/problem has solved.
Naturally, speaker comes with the circuit(creates nice sound) CANNOT be in this small loco.
Arrangement of equipments: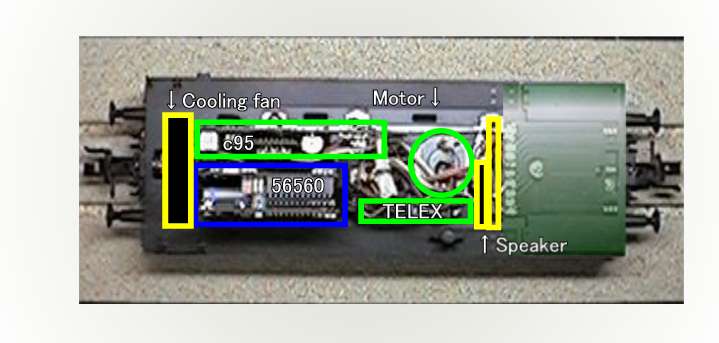 Top view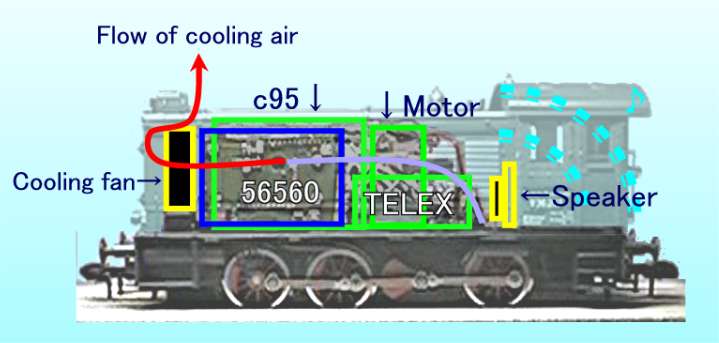 Side view
Points:
Telex circuit board replaced to side of motor.
#56560 circuit board placed in parallel with c95(site of Telex circuit board in original).
All the equipments completely enclosed in the engine room. No modification in exterior and cab interior(expect opening for speaker)
Details:
<Cooling fan>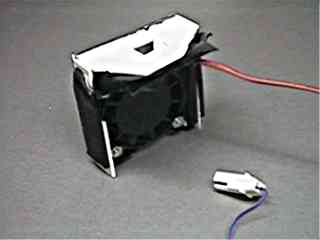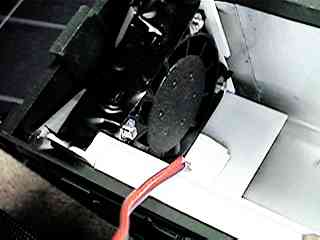 Points:
For cooling the circuit, small fan for PC's(18V-DC) installed inner front of engine room.
The air draw in from bottom edge of the engine room and get off from smoke stack.
A duct for the air made by styrene plastics.
Aluminium inner sheet is sticked for:

Insulating from radio wave by RC equipments(when play with RC friends!)
Heat radiation.
Dump the resonance of engine / horn sound.
<Speaker / Acoustics>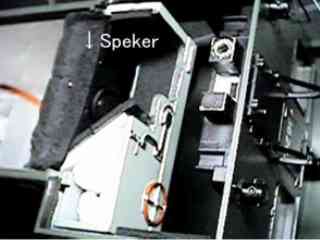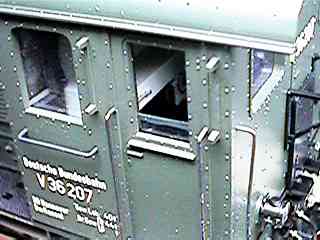 Points:
A Speaker changed for 8 ohm small speaker, made for HO sound system.
Engine room acts as an enclosure. Engine room and cab are dumped by butyric rubber pad.
The sound comes out from lowered windows on the door of cab.
Testing internal temprature(effect of cooling fan).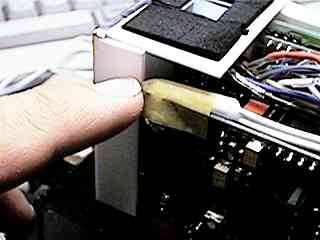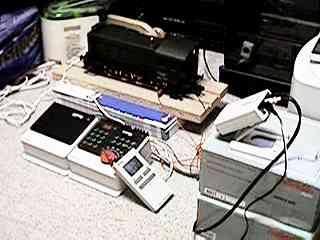 A pointed white probe(with yellow bandage) is thermal sensor on power device of sound circuit.
The room temp. was about 25 degree C.
Following charts shows time-temp. characters.
Result 1:
Please click the image to enlarge.
Without cooling fan, inner temp. reaches to70-degree C at 20min. after power on.
When the unit on the rail, the circuit makes a lot of heat continuously.
So it requires 'active' cooling system.
Result 2:
Please click the image to enlarge.
With cooling fan, max temp. is 43 degree C.
Even 2or 3 hours after power on, the temp. is very stable at 40 to 50 degree C.
Conclusion:
All the tasks I enforced for myself has achieved.
This was the first experiment for modifying gauge 1 loco( as a fact this is the first gauge 1 loco for me!), but I got a great result.
Playing with sound effect takes a lot of fun!
Copyright © 2000 by Jun Maeda / KOBE JAPAN